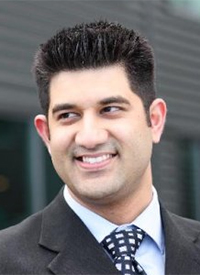 Thursday, March 3, 2016, 5-6 p.m.
Sandford Fleming, room 1105
Abstract: A few years into a great career at Microsoft, Ahmed began exploring what role software technology should be playing in addressing one of this generation's greatest challenges: managing our scarce natural resources. This led him to quit his job and move back to Toronto to start WatrHub and begin transforming the way water is managed by cities across North America. Ahmed will share all the ups and downs in his journey as he has pursued his life-long passion for technology and its role in making the world a better place. He'll share his insights and perspective on why Naïve Optimism is a key ingredient to powering your business idea into massive disruption.
Bio: Ahmed is CEO of WatrHub Inc., a fast-growing, Toronto-based analytics company which has been internationally recognized for its innovation in and disruption of the $600B water industry. He is passionate about bringing forth new paradigms of efficiencies and revealing hidden value propositions in massive, slow-moving, risk-averse industries, by developing a perfect mix of revolutionary technology and innovative business models. Prior to WatrHub, Ahmed worked in various technology leadership roles at Microsoft building consecutive versions of their flagship Windows product. He led a globally distributed development team based out of the U.S., India, and China, deriving novel ways to improve team workflows and information exchange. Ahmed has a Bachelor's of Applied Science from the University of Toronto in Electrical & Computer Engineering. Outside of work, Ahmed is a big soccer and American football fan. He also can't resist a good BBQ experience, so he uses predictive analytics to solve for his nth+1 restaurant to visit!
http://www.ece.utoronto.ca/about/entrepreneurship-series/engineering-entrepreneurship-series-2015-2016-speakers/#Badruddin
Check-In Attendees
Engineering Entrepreneurship Series- "'Naïve Optimism – How It Can Power your Idea to Massive Disruption'" By Ahmed Badruddin
Mar 03, 2016 @ 17:00
0

Attending Event


Yes, I will attend

0

Maybe


Not sure I will attend

0

Not Attending


No, I will not attend