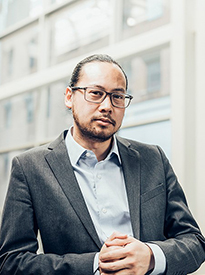 Title: The Iron Ring: From ECE to Everest to Entrepreneur
In this candid talk about his life to date, Carlo Perez (0T2+PEY, Founder and CEO of Swift Medical, and Finalist for 2018 EY Entrepreneur of the Year) shares personal stories of success and failure along his unexpected journey into entrepreneurship, and how his experiences in engineering – and the Iron Ring, in particular – have been a crucial guide for him the entire way.
If you're interested in what lies beyond graduation, the unique value of your engineering education to the greater good, or just hearing a good story of just how far your iron ring can take you, this is a talk for you.
Carlo Perez is an engineer and entrepreneur, passionate about delivering designs and transformative technologies that put empathy into action. Raised by a father who was a trained engineer and a mother who worked as a nurse, Carlo spent seven years in R&D at Advanced Micro Devices (AMD) Inc., where his research focused on industry-leading 3D graphics hardware. In 2009, after a year of hitchhiking, Carlo found a calling teaching post-graduate engineering at Humber College, covering subjects that ranged from RF technology to advanced robotics. During this time, he explored novel applications of state-of-the-art visioning technology with his future Swift Medical co-founders – a path that led them to wound care. Today, after three short years, Swift Medical is the category leader in digital wound care management, adopted by over 1,000 facilities to monitor over 100,000 beds across North America.