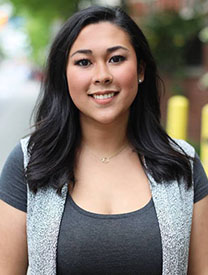 What on earth is growth? (How to become a 'growth' minded leader)
Abstract: From music to business, to high growth startups — in this talk, we'll discuss the differences in between growth, product, and marketing and how new-age companies need to bake 'growth' directly into their user experience, no matter the industry. Afterward, we'll go deep on how many high-growth startups like Tilt, Airbnb, and many other Y-Combinator startups are focusing on retention and technical empathy to build more versatile teams and structure their growth roadmap.
Bio: Prior to heading growth at GrowSumo (YC'15), Emily Lonetto helped grow Tilt (acquired by Airbnb) from an American micro-crowdfunding company to one of the fastest growing payments apps – ever. During her time at Tilt, Emily combined her background in business, product, and design to build new features and scale Tilt's ambassador program internationally. Emily approaches growth in a scientific yet creative way and continues to push for rapid experimentation as the Head of Growth at GrowSumo: a marketplace, and platform that allows companies to scale through automated partnership channels. GrowSumo has since helped companies like Evernote, Intuit, and Samsung scale their community and reach their growth goals.