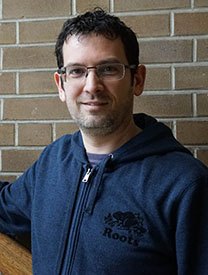 Disrupting Dining – How technology is changing the restaurant industry
Abstract: For decades, the restaurant industry has remained relatively unchanged, with little innovation.  Perhaps more than any other industry, new technologies are having the biggest impact in disrupting the traditional restaurant experience.  These technologies range from the well known customer-based delivery apps, to lesser known kitchen inventory ordering platforms, to fully integrated real-time backend sales tracking databases.  In this discussion, Jared will talk about how technology has changed his business, and the need to remain current in an industry known to have among the highest failure rates.
Bio:  Jared founded Veda Healthy Indian Takeout in 2005 after completing is MBA at the Rotman School at U of T.  He saw a hole in the market for Healthy Indian Fast Food, and wanted to create something that had not been done before.  During his two-year MBA, Jared focused a majority of his studies on developing a sound business plan, constantly trying to disprove his concept.  Since then he has successfully opened several restaurants, and now focuses on campus eateries, as well as a fast-growing campus catering business at the University of Toronto.  With an expertise in both on- and off-campus food service,  Jared was recently invited to Zhuhai, China – known for its abundance of high quality Universities – as a consultant to a major developer Chinese universities.
Prior to returning to school at U of T to obtain his MBA and subsequently launching Veda, Jared completed a Bachelor of Commerce (Honours) degree with a double-major in Finance and Marketing at the University of Manitoba.  During his undergraduate studies, Jared worked nights at RBC at one of Canada's first inbound banking call centres.  This part-time job at RBC led Jared to move to Calgary with RBC, upon graduation, working in its high net worth discretionary wealth management division.