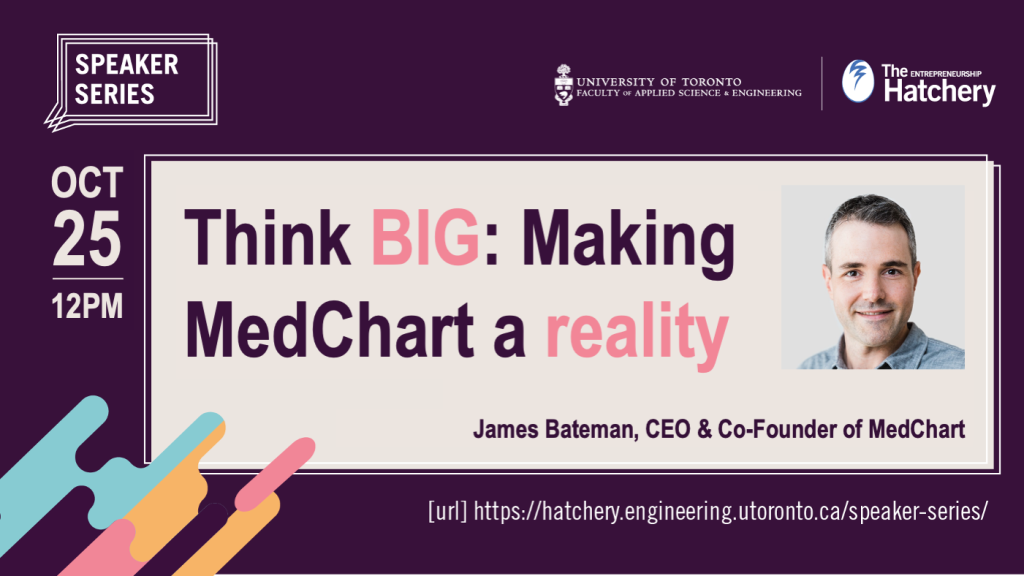 James Bateman, Founder of Marble (Hatchery 2014)
James Bateman is a licensed carpenter, quantum physicist, and health-tech entrepreneur who is motivated by solving novel transformative problems.
First joining as a partner in his family carpentry business, he built houses for 9 years until his strong interest in quantum physics led him to the University of Toronto. There he studied Engineering Science, Majoring in Physics and completed his Masters with top publications in Physical Review Letters and APS Physics.
During his PhD James partnered with cofounder Derrick Chow to found Marble on a mission to eliminate barriers to access and control of one's health information after experiencing the pains of interacting with archaic health information systems while his father-in-law was ill. As CEO, he has successfully grown Marble across the USA and Canada and attracted world-class investors to accelerate growth. He continues to grow Marble today and is on a mission to radically re-envision access to health data.
Join us on October 25 to hear how James has built upon multiple successful ventures.
Register here to attend in person (Myhal 370) or online.
* * * * *
Join us every Tuesday at noon to learn from Hatchery Alumni how they grew from campus classrooms to their very own C-Suites.
Tuesdays: September 20 – November 15, 2022
Time: 12:00 PM
Location: MY370 – Myhal Centre, 55 St George St, Room 370
Fall 2022 Speaker Schedule:
Tue. Sep. 20 – Manmeet Maggu, Trexo Robotics (Hatchery 2016)
Tue. Sep. 27 – Rahul Goel, Pheedloop (Hatchery 2015), Mango Moon (2017), NordSpace (2022)
Tue. Oct. 4 – Tom Leung, BenchSci (Hatchery 2014)
Tue. Oct. 11 – Nikola Kostic, Aeroflux (Hatchery 2019)
Tue. Oct. 18 – Vik Pandit, Phycus Biotechnologies Inc (Hatchery 2017)
Tue. Oct. 25 – James Bateman, MedChart (Hatchery 2014), Marble (2022)
Tue. Nov. 1 – Zaid Atto, Xpan Medical (Hatchery 2017)
Tue. Nov. 8 – Reading Week
Tue. Nov. 15 – Mina Mitry, Kepler Communications (Hatchery 2015)