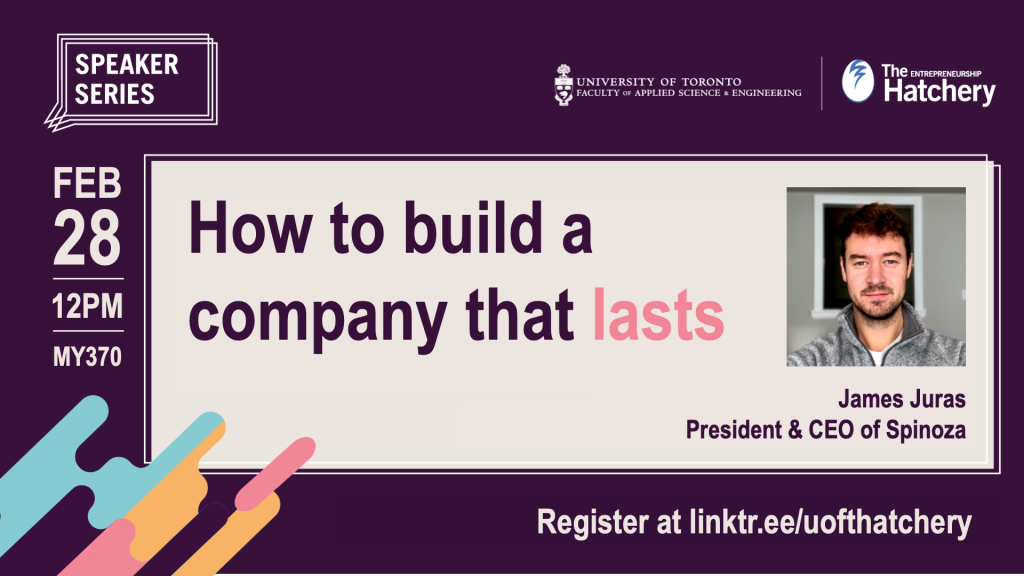 James Juras, President & CEO at Spinoza Life Sciences Inc.
James Juras is the founder and CEO of Spinoza Life Sciences Inc., the makers of Hol Food. Since its founding in 2015, Spinoza has sold millions of meals to customers across North America and have been the recipients of the Ontario Centre of Excellence's SmartStart and the City of Toronto's FoodStarter awards. Prior to founding Spinoza, James worked with the Public Health Agency of Canada, Sick Kids Hospital, and the Government of Canada Clonal Genebank. James holds a H.B.Sc. degree in Neuroscience from the University of Toronto, St. George Campus.
Register here to attend in person (Myhal 320) or online.
* * * * *
Join us every Tuesday at noon to learn from Hatchery Alumni how they grew from campus classrooms to their very own C-Suites.
Tuesdays: January 17 – March 14, 2023
Time: 12:00 PM
Location: MY320 – Myhal Centre, 55 St George St, Room 370