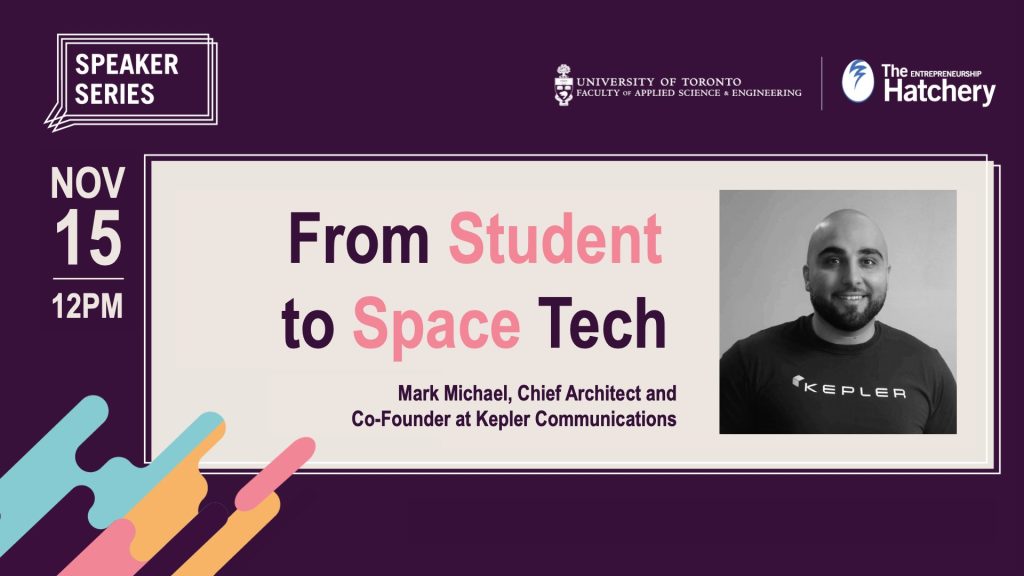 Mark Michael, Co-Founder and Chief Architect at Kepler Communications (Hatchery 2015)
MSc Engineering 1T4 (2014), University of Toronto
BASc Engineering 1T2 (2012), University of Toronto
Mark Michael is Co-Founder and Chief Architect at Kepler Communications, a company building the Internet outside Earth. Kepler is a vertically integrated satellite operator, designing, building, and operating a network of over 19 satellites on orbit. Kepler's next-generation constellation will relay traffic for customers in space, connecting satellites to each other or to the ground in real-time. Kepler has grown to the largest Canadian satellite operator and was named one of the most innovative space companies in the world by Fast Company.
Before Kepler, Mark worked as a developer for major software firms including IBM and Oracle as well as on RBC's electronic trading platform. He won IBM's Smarter Planet award for his work on a traffic optimization algorithm and enjoys applying his math skills to problems in space, medicine and sports. He claims to have mathematically proven that Michael Jordan is the best basketball player of all time.
Join us on November 15 to hear about Mark's startup journey!
Register here to attend in person (Myhal 370) or online.
* * * * *
Join us every Tuesday at noon to learn from Hatchery Alumni how they grew from campus classrooms to their very own C-Suites.
Tuesdays: September 20 – November 15, 2022
Time: 12:00 PM
Location: MY370 – Myhal Centre, 55 St George St, Room 370
Fall 2022 Speaker Schedule:
Tue. Sep. 20 – Manmeet Maggu, Trexo Robotics (Hatchery 2016)
Tue. Sep. 27 – Rahul Goel, Pheedloop (Hatchery 2015), Mango Moon (2017), NordSpace (2022)
Tue. Oct. 4 – Tom Leung, BenchSci (Hatchery 2014)
Tue. Oct. 11 – Nikola Kostic, Aeroflux (Hatchery 2019)
Tue. Oct. 18 – Vik Pandit, Phycus Biotechnologies Inc (Hatchery 2017)
Tue. Oct. 25 – James Bateman, MedChart (Hatchery 2014), Marble (2022)
Tue. Nov. 1 – Zaid Atto, Xpan Medical (Hatchery 2017)
Tue. Nov. 8 – Reading Week
Tue. Nov. 15 – Mark Michael, Kepler Communications (Hatchery 2015)