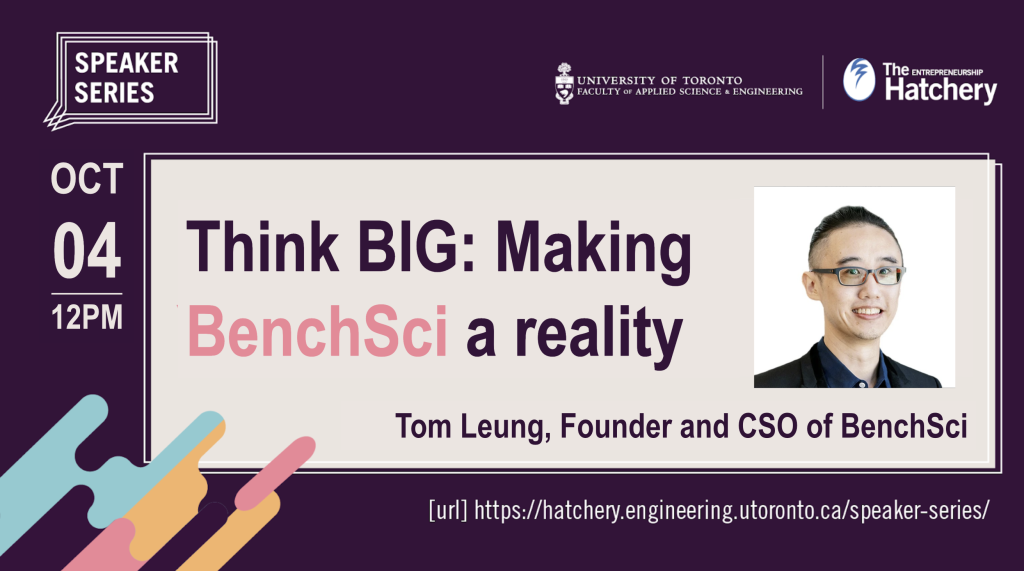 Tom Leung | Chief Science Officer and Co-Founder | Lego Builder
With an MSc in virology and a Ph.D. in epigenetics from the University of Toronto, Tom's research focused on the molecular mechanism of repressive genetic bookmarking during cellular division and the potential application of reversing these bookmarks as an alternative therapeutic approach to treating cancer.
While at the University of Toronto, Tom had an ambitious idea to reduce the number of failed experiments but knew he needed AI, data, and business knowledge. So he recruited a computer programmer, a data scientist, and an entrepreneur, and together they created BenchSci.
Since 2015, Tom has provided the vision and leadership for BenchSci's R&D efforts, including directing the creation of BenchSci's bioinformatics ontologies and patent-pending machine learning models. As the head of BenchSci's R&D team, Tom has extensive experience in bench research, bioinformatics, and machine learning.
Join us on October 4 to hear about Tom's startup journey.
Tom will present in person in Myhal Centre, room 370. Register here to attend in person or online.
* * * * *
Join us every Tuesday at noon to learn from Hatchery Alumni how they grew from campus classrooms to their very own C-Suites.
Tuesdays: September 20 – November 15, 2022
Time: 12:00 PM
Location: MY370 – Myhal Centre, 55 St George St, Room 370
Fall 2022 Speaker Schedule:
Tue. Sep. 20 – Manmeet Maggu, Trexo Robotics (Hatchery 2016)
Tue. Sep. 27 – Rahul Goel, Pheedloop (Hatchery 2015), Mango Moon (2017), NordSpace (2022)
Tue. Oct. 4 – Tom Leung, BenchSci (Hatchery 2014)
Tue. Oct. 11 – Nikola Kostic, Aeroflux (Hatchery 2019)
Tue. Oct. 18 – Vik Pandit, Phycus Biotechnologies Inc (Hatchery 2017)
Tue. Oct. 25 – James Bateman, MedChart (Hatchery 2014), Marble (2022)
Tue. Nov. 1 – Zaid Atto, Xpan Medical (Hatchery 2017)
Tue. Nov. 8 – Reading Week
Tue. Nov. 15 – Mina Mitry, Kepler Communications (Hatchery 2015)