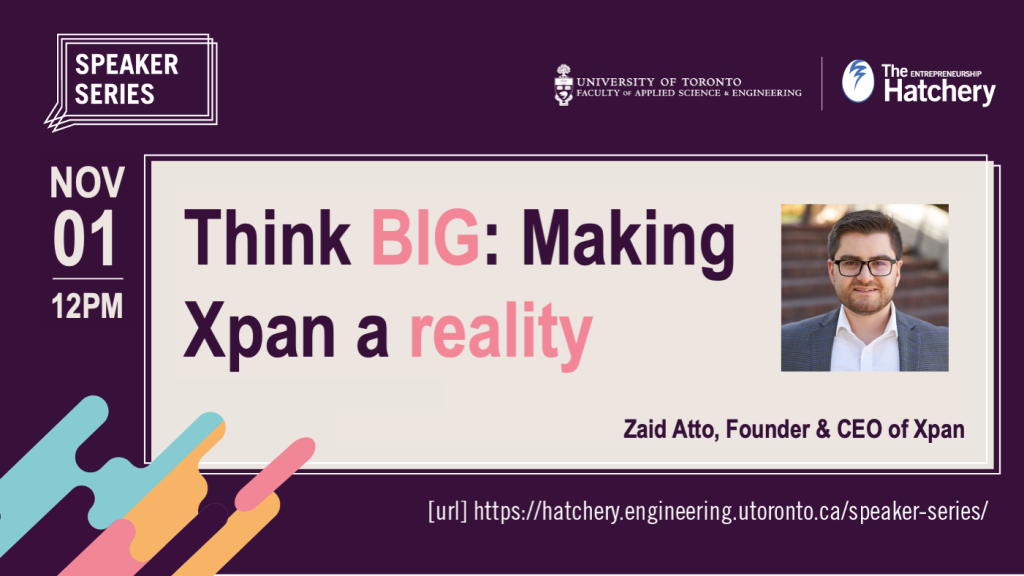 Zaid Atto, Founder & CEO at Xpan Inc.
Zaid is an award-winning medtech entrepreneur, inventor and biomedical engineer with a BASc from the University of Toronto (Engineering Science). He specialized in minimally invasive surgical technology, and founded Xpan during the final year of his undergraduate degree after being presented with compelling unmet needs by surgeons. Xpan develops miniaturized, less invasive, expandable access ports that aim to improve patient safety and surgical efficiency. The company has attracted a seasoned team with a track record of success, and is targeting a large, yet innovation deprived market.
Join us on November 1 to hear about Zaid's startup journey.
Register here to attend in person (Myhal 370) or online.
* * * * *
Join us every Tuesday at noon to learn from Hatchery Alumni how they grew from campus classrooms to their very own C-Suites.
Tuesdays: September 20 – November 15, 2022
Time: 12:00 PM
Location: MY370 – Myhal Centre, 55 St George St, Room 370
Fall 2022 Speaker Schedule:
Tue. Sep. 20 – Manmeet Maggu, Trexo Robotics (Hatchery 2016)
Tue. Sep. 27 – Rahul Goel, Pheedloop (Hatchery 2015), Mango Moon (2017), NordSpace (2022)
Tue. Oct. 4 – Tom Leung, BenchSci (Hatchery 2014)
Tue. Oct. 11 – Nikola Kostic, Aeroflux (Hatchery 2019)
Tue. Oct. 18 – Vik Pandit, Phycus Biotechnologies Inc (Hatchery 2017)
Tue. Oct. 25 – James Bateman, MedChart (Hatchery 2014), Marble (2022)
Tue. Nov. 1 – Zaid Atto, Xpan Medical (Hatchery 2017)
Tue. Nov. 8 – Reading Week
Tue. Nov. 15 – Mina Mitry, Kepler Communications (Hatchery 2015)