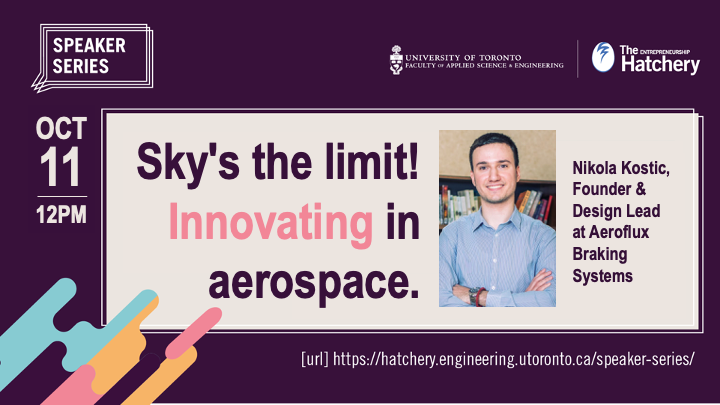 Nikola Kostic, Founder & Design Lead at Aeroflux Braking Systems
Nikola Kostic graduated from the University of Toronto with a Bachelor of Applied Science (BASc) in Mechanical Engineering with a specialization in Solid Mechanics & Design and a Minor in Advanced Manufacturing. He worked as an Engineering Designer on the design, analysis, and testing of aircraft landing gear components on several aircraft programs, including the Bombardier Global Express, Bombardier Global 5000, and Bombardier Global 7500 ultra-long-range business jets.
In 2020, he founded Aeroflux Braking Systems to develop and commercialize the next generation of aircraft braking technology. Aeroflux is developing wear-free aircraft brakes for business, commuter, and commercial aircraft. Aerofux brakes operate magnetically to stop an aircraft without friction, and therefore with virtually no wear, saving airlines millions of dollars in maintenance and operating costs on each of their planes.
Join us on October 11 to hear about Nikola's startup journey.
Register here to attend in person (Myhal 370) or online.
* * * * *
Join us every Tuesday at noon to learn from Hatchery Alumni how they grew from campus classrooms to their very own C-Suites.
Tuesdays: September 20 – November 15, 2022
Time: 12:00 PM
Location: MY370 – Myhal Centre, 55 St George St, Room 370
Fall 2022 Speaker Schedule:
Tue. Sep. 20 – Manmeet Maggu, Trexo Robotics (Hatchery 2016)
Tue. Sep. 27 – Rahul Goel, Pheedloop (Hatchery 2015), Mango Moon (2017), NordSpace (2022)
Tue. Oct. 4 – Tom Leung, BenchSci (Hatchery 2014)
Tue. Oct. 11 – Nikola Kostic, Aeroflux (Hatchery 2019)
Tue. Oct. 18 – Vik Pandit, Phycus Biotechnologies Inc (Hatchery 2017)
Tue. Oct. 25 – James Bateman, MedChart (Hatchery 2014), Marble (2022)
Tue. Nov. 1 – Zaid Atto, Xpan Medical (Hatchery 2017)
Tue. Nov. 8 – Reading Week
Tue. Nov. 15 – Mina Mitry, Kepler Communications (Hatchery 2015)