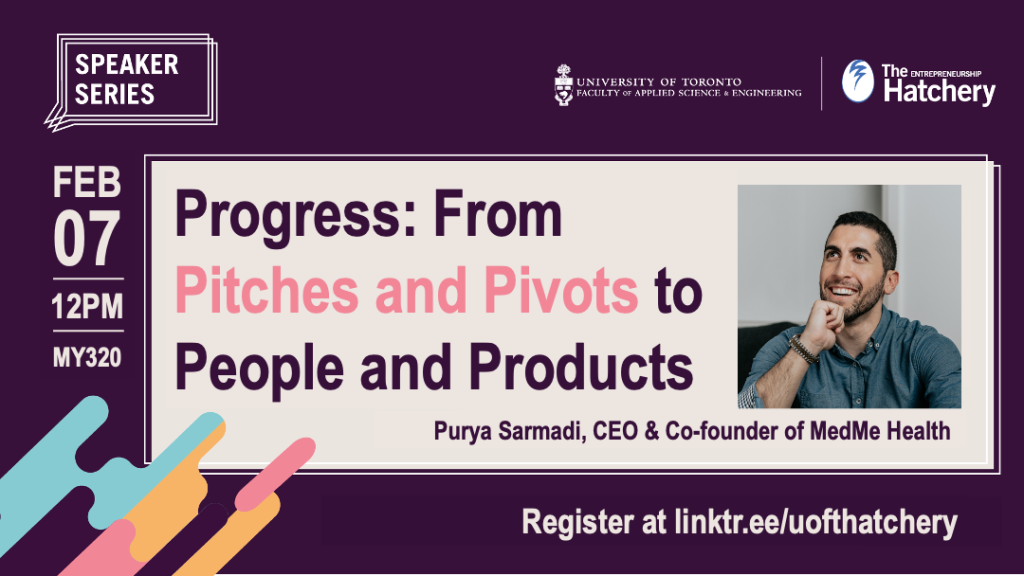 Purya Sarmadi is CEO and Co-founder of MedMe Health, the pharmacy OS powering transformation from drug dispensaries to community health hubs.
Shortly after graduating with a Masters of Health Informatics from UofT, Purya initially ideated and iterated MedMe from the Hatchery. MedMe's end-to-end platform has since powered more than 20 million patient services and is trusted by almost 4,000 pharmacies across Canada.
The company has raised ~$3.7M in venture capital and is backed by M12 (Microsoft's Venture Fund), Y-Combinator, Graphite Ventures, and MaRS IAF.
Register here to attend in person (Myhal 320) or online.
* * * * *
Join us every Tuesday at noon to learn from Hatchery Alumni how they grew from campus classrooms to their very own C-Suites.
Tuesdays: January 17 – March 14, 2023
Time: 12:00 PM
Location: MY320 – Myhal Centre, 55 St George St, Room 370