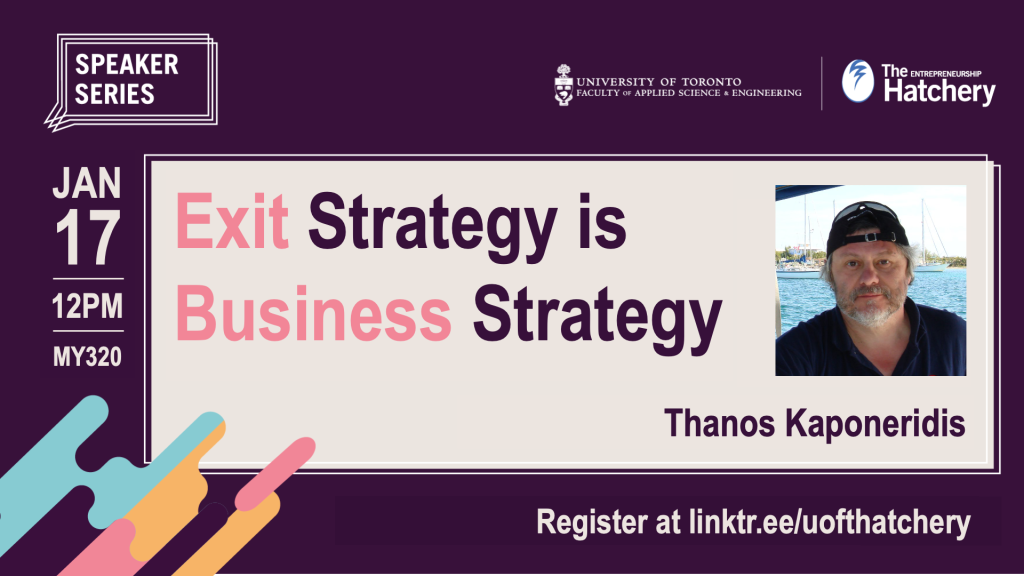 Mr. Thanos Kaponeridis graduated from the University of Toronto in 1976 (Industrial Engineering) and from the University of London / UK with an MSc in Human Factors/Ergonomics in 1978.
He pursued a career in Systems / IT in consulting and ultimately founded Aerosoft Systems Inc in 1997 for the purpose of building and marketing software solution for the commercial aviation maintenance market. He concluded an exit and sold Aerosoft at the 3Q 2022.
Mr. Kaponeridis has previously participated in the support of the Hatchery Program and Engineering Innovations lectures at U of T. Mr. Kaponeridis is easing into retirement with part-time consulting in aviation systems and writing his 'corporate memoirs' enjoying long stretches of sailing in Greece and Toronto.
Register here to attend in person (Myhal 370) or online.
* * * * *
Join us every Tuesday at noon to learn from Hatchery Alumni how they grew from campus classrooms to their very own C-Suites.
Tuesdays: January 17 – March 14, 2023
Time: 12:00 PM
Location: MY320 – Myhal Centre, 55 St George St, Room 370