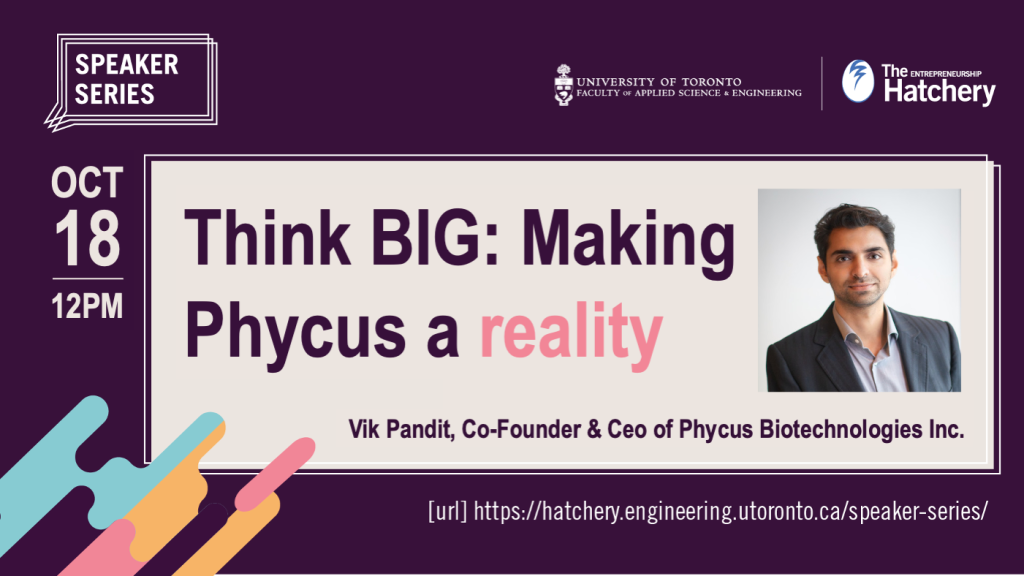 Vik Pandit, Co-Founder & Ceo of Phycus Biotechnologies Inc.
After obtaining his BEng (Chem 0T9) and his PhD in Metabolic Engineering (1T6) from the University of Toronto, Vik founded Phycus Biotechnologies. Phycus develops sustainable, active ingredients for cosmetics and personal care products. They have developed a novel fermentation technology for producing a 100% biobased glycolic acid.
Join us on October 18 to hear about Vik's startup journey.
Vik will present in person in Myhal Centre, room 370. Register here to attend in person or online.
* * * * *
Join us every Tuesday at noon to learn from Hatchery Alumni how they grew from campus classrooms to their very own C-Suites.
Tuesdays: September 20 – November 15, 2022
Time: 12:00 PM
Location: MY370 – Myhal Centre, 55 St George St, Room 370
Fall 2022 Speaker Schedule:
Tue. Sep. 20 – Manmeet Maggu, Trexo Robotics (Hatchery 2016)
Tue. Sep. 27 – Rahul Goel, Pheedloop (Hatchery 2015), Mango Moon (2017), NordSpace (2022)
Tue. Oct. 4 – Tom Leung, BenchSci (Hatchery 2014)
Tue. Oct. 11 – Nikola Kostic, Aeroflux (Hatchery 2019)
Tue. Oct. 18 – Vik Pandit, Phycus Biotechnologies Inc (Hatchery 2017)
Tue. Oct. 25 – James Bateman, MedChart (Hatchery 2014), Marble (2022)
Tue. Nov. 1 – Zaid Atto, Xpan Medical (Hatchery 2017)
Tue. Nov. 8 – Reading Week
Tue. Nov. 15 – Mina Mitry, Kepler Communications (Hatchery 2015)