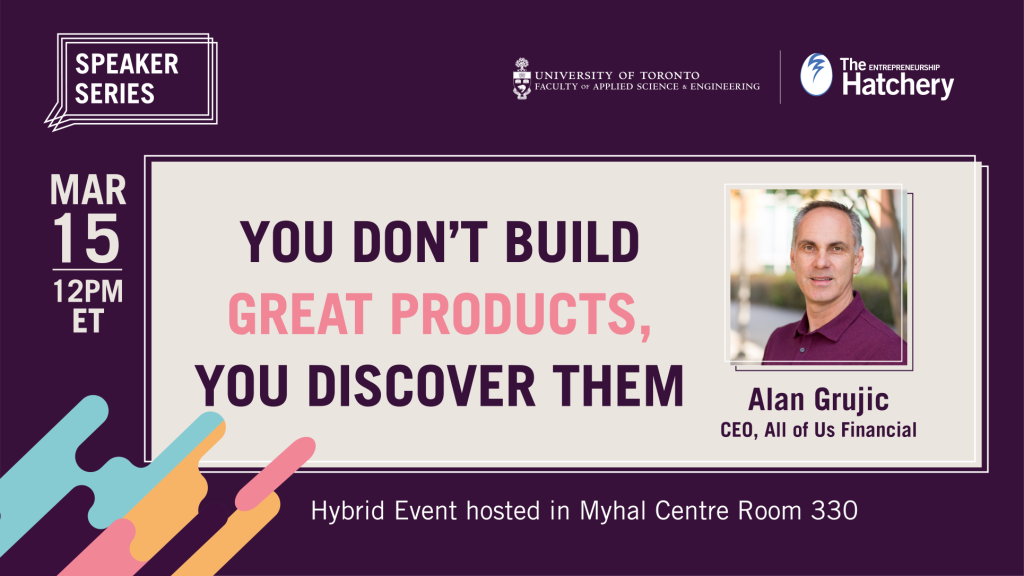 Tuesday, March 15, 2022
12:00-1:30 PM ET
Hybrid Event: Alan Grujic will be in-person at Myhal Centre, Room 330 + Virtual Online
Alan Grujic earned a bachelor's degree in Electrical Engineering from the University of Toronto and an MBA with a concentration in finance from the University of British Columbia.  Al has lived and worked around the world. He currently resides in California, where he is CEO of All of Us Financial.
Upon graduating from Electrical Engineering Al worked in production automation at CAMI Automotive, a General Motors subsidiary, where he designed and programmed robotics systems and other automated manufacturing processes. After earning his MBA, he worked for TD Bank for about 9 years, where he helped build and grow a brand-new structured finance business for TD in Asia.
The combined history of working with automation and trading operations led Alan to cofound the Infinium Group in 2002, which was a high-frequency fully automated trading business. Infinium deployed proprietary algorithms, technology infrastructure, and telecom networks in North America, South America, Europe, and Africa. The company was at times the top equity trader in Canada, and a large participant in the US and European markets.
As the algorithms at Infinium grew more sophisticated Al wanted to tackle more mathematically intensive aspects of automated trading and founded Galiam Capital. The hedge fund raised capital from several large financial institutions in 2012. Infinium earned its returns through mathematical strategies that deployed data science systems and processes.
Al is an avid reader and believes technological change will soon require major changes in how our economy is structured. By 2017 he was finding himself spending more and more time thinking about the changes that were sweeping various other industries through the deployment of technology and multi-sided platform business models. The world was changing fast, and he became excited by the implications this held for improving the finance industry. Given his worldview and desire to contribute, he decided to build All of Us Financial. This is where he could make the most difference by applying what he'd learned about the power of data science in investing to the largest possible audience, all retail investors. Just recently All of Us was acquired by a large Silicon Valley financial technology company, and while we are not just yet ready to share who it is, please stay tuned.
In-person attendees at MY330 must:
– complete UCheck, 
– wear a mask, and 
– distance indoors.