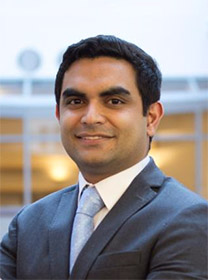 In this talk, Aditya will go through his journey as an entrepreneur trying to organize an informal sector like astrology in the Indian market through a family venture (www.astroYogi.com), the challenges of replicating the experience in digital healthcare with my start-up OyeHelp.com, and why not to build businesses for VCs and angel investors.
Aditya Kapoor is a second year full time MBA student at Rotman School of Management. He trained as a lawyer in India and briefly worked as an energy lawyer before quitting to join his family venture, astroYogi. astroYogi started as a content licensing company, tying up with MSN, Yahoo and Google, among others, and eventually transitioned into a service platform connecting astrologers/tarot readers to customers in a marketplace model. Using this experience, Aditya co-founded OyeHelp, a digital healthcare platform, aimed at connecting doctors to patients using video and cloud telephony.
Aditya also headed the digital marketing and technology initiatives for Indian Prime Minister Narendra Modi's campaign in 2014 and aims to be involved at the intersection of social media, technology and political campaign management.