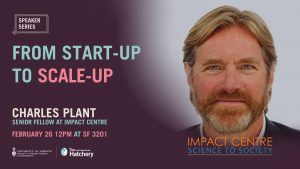 Charles Plant
Senior Fellow, Impact Centre
Charles Plant is an unrepentant entrepreneur and budding economist. He is a Senior Fellow with the Impact Centre, conducting research and writing in the area of technology innovation and entrepreneurship. Aside from numerous research papers he has recently written a book that is available on Amazon entitled Triggers and Barriers: A Customer Perspective on Innovation.
Charles has been an officer, director or investor in several dozen technology companies. He was co-founder and CEO for 15 years of Synamics, a telecommunications software firm that provided mass calling platforms to telcos. Active for much of his career in the world of finance, Charles has been a venture capitalist, investment banker, and corporate banker. He also worked for four years at MaRS Discovery District.
As an educator, Charles spent seven years on the faculty of York's Schulich School of Business teaching in the MBA program and now teaches innovation and entrepreneurship at the University of Toronto. He has an MBA in marketing, is a Chartered Accountant and is currently pursuing a PhD in Economics.