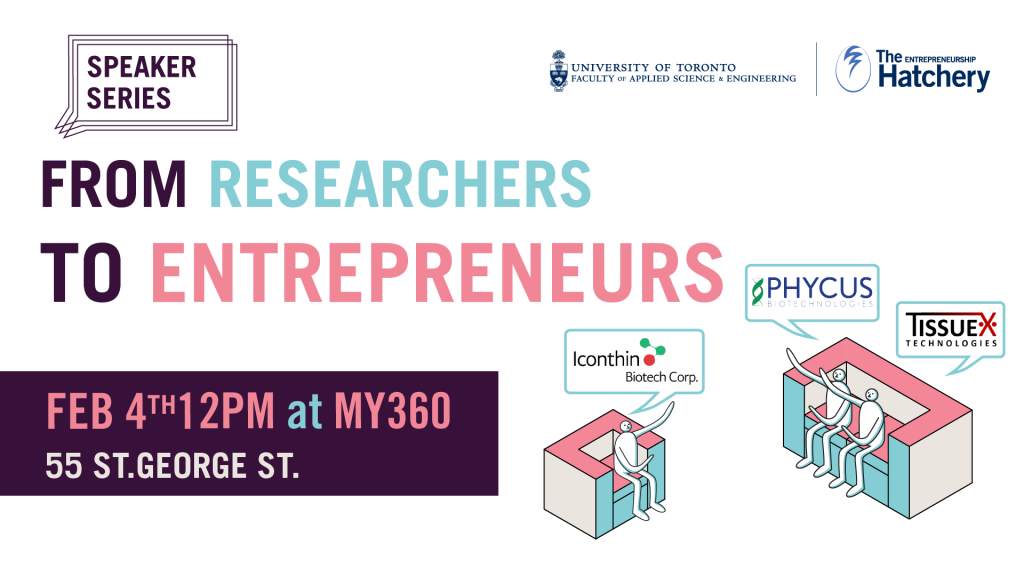 Join us for a panel discussion featuring three successful startups that have come out of the U of T Hatchery!
Phycus Biotechnologies tackles the fact that most of the ingredients we find in our cosmetics and personal care products are derived from crude oil.  These products often contain residual chemical contaminants like formaldehyde that are harmful for our skin and for the billions of beneficial bacteria that grow on our skin and protect us.
Iconthin Biotech focus on the development of microalgae-based technologies and products to improve human health. The natural products derived from microalgae contains tremendous health benefits such as antioxidant, anti-inflammatory and anti-aging effects and could potentially open a new path of drug development from the ocean.
TissueX Technologies offers tools and services to accelerate preclinical drug discovery. Our core technology, PEGUSYS, allows scientists to conduct conventional cell-based experiments with higher precision by controlling the position of cells. As a result, scientists can test hypotheses with increased confidence, leading to improved filtration of successful drug candidates