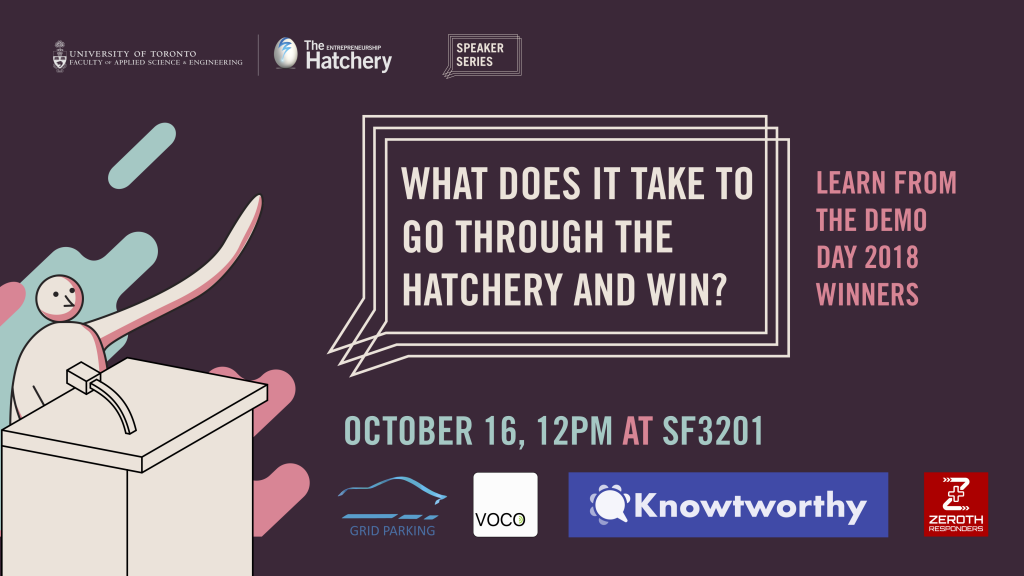 Want to learn more about The Hatchery experience? Are looking to start your own business and are unsure about how to go about it ?
Join us at The Hatchery Alumni Panel event – meet, network and hear first hand from The Hatchery Alumni about their experience. Discover more about how you can get involved with The Hatchery, and learn about the ups and downs of being an entrepreneur. If you are considering joining the Hatchery NEST 2019, this is the event to be at.
Panelist:
Ahsan Malik, Grid Parking
Grid leverages today's technology of image recognition to detect available spaces and broadcast in real-time so drivers can navigate straight to available spot or reserve even before setting out! We provide parking lots with Real Time Analytics informing them of peak hours which allows them to introduce dynamic pricing and know regular customers. They can also serve high need drivers by allowing advance reservations!
Adam Comer, Knowtworthy
We've heard the same problems again and again from business professionals and designed a platform with game-changing features to address their pain. For example, we save time by organizing your action items across all your meetings so that you don't have to. Our platform already improves meetings, and we hope to take it one step further by automating minute taking entirely. With this, Knowtworthy is proud to introduce the future of meetings.
Qinchen Wang, Voco
By 2020, 75% of American households will have a Smart Speaker like Amazon Echo or Google Home. If you asked "Alexa, play the latest tech news" she will respond with "Hmm, I don't know that". This is a problem because content creators and advertisers are eager to reach this audience of 240M Americans, but uploading content to Smart Speakers today is complicated. Plus, users cannot search or discover new content. We are creating a platform that solves both of these problems.