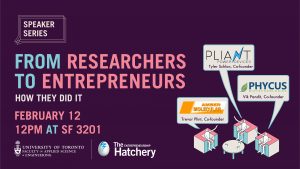 Join us for a panel discussion featuring three successful startups that have come out of the U of T Hatchery!
Pliant Power Devices provides electric plastics for next generation batteries. Their batteries are safe, sustainable alternatives to traditional batteries, that are cobalt-free, have low carbon emission production and are compatible with existing manufacturing infrastructure.
Amber Molecular is creating new light emitting materials for OLEDs in the display sector and beyond. Their materials deliver OLEDs that are bright, cost-effective, and rare earth metal-free, in a range of colours from the orange to the deep red.
Phycus Biotechnologies tackles the fact that most of the ingredients we find in our cosmetics and personal care products are derived from crude oil.  These products often contain residual chemical contaminants like formaldehyde that are harmful for our skin and for the billions of beneficial bacteria that grow on our skin and protect us.