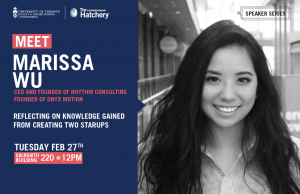 Marissa Wu is the founder and CEO of Rhythm Consulting and formerly the founder of Onyx Motion and Director of Client Strategy at Ten Thousand Coffees.
Rhythm Consulting is a Toronto-based company that offers marketing and product management consulting for small businesses and tech startups who want to be recognized in the global market. Prior to her entrepreneurial ventures, Marissa was a Marketing Proctoid at Proctor and Gamble. Since leaving full-time employment, Marissa has founded two of her own companies: Onyx Motion and Rhythm Consulting.
As the CEO and Co-founder of Onyx Motion, a digital coaching application for smart-watches, Marissa was able to help athletes improve their skills on the court. In fact, Onyx Motion has even been used by members of the National Basketball Association like Ben Gordon of the Texas Legends and Bill Burgos, an Orlando Magic Coach. In her years as an entrepreneur she was featured in the likes of the Globe and Mail, the National Post, and CBC's Dragon's Den.
Marissa is a University of Toronto alumnus (EngSci 1T13). Join us on Tuesday February 27th to hear from Marissa as she reflects back on her entrepreneurial endeavors.