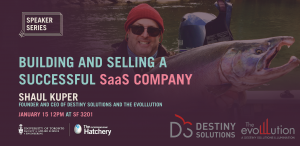 A visionary leader and entrepreneur, Shaul Kuper founded Destiny Solutions Inc. in 2001 to spearhead the opportunity for change he foresaw in the higher education industry.
Passionate about technological innovation and the spirit of collaboration, Kuper's focus on world-class customer service and business excellence at post-secondary institutions has led to Destiny Solutions' partnerships with leading institutions and significant year-over-year growth.
In 2012 he founded The EvoLLLution, an online community newspaper dedicated to serving non-traditional education providers and evoking positive change in the shifting higher education landscape. As a public commentator on the business of non-traditional education and the role of technology, he regularly advises on student engagement strategies with industry leaders in higher education.
Prior to founding Destiny Solutions, Kuper was President of Destiny Web Designs, a Toronto-based website development firm. He holds a B.Sc. Honours degree from the University of Toronto.