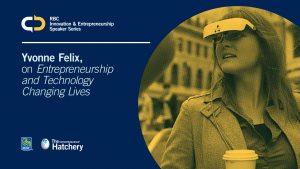 The Entrepreneurship Hatchery is happy to co-host the RBC Innovation & Entrepreneurship Series with Yvonne Felix:
Interested in creating a technology with impact? Come hear how entrepreneurship can change lives through artist and entrepreneur Yvonne Felix's inspiring and personal story of how a technology breakthrough completely changed the trajectory of her life.
Once legally blind, Yvonne Felix now uses electronic glasses from eSight, an Ontario-based start-up, to help her see. Her goal to live her life to the fullest meant that she could not just hope for something to change, but had to make it happen herself. She'll discuss her experience before and after the technological breakthrough, the story of eSight, and the deep impact that accessible universal design has had on her and how it has the power to enable people to obtain a level playing field for success.